Staying Safe from Summer Motorcycle Collisions in Columbia
Recently a motorcyclist was killed and two others were injured in a Tennessee accident. According to News Channel 5, the accident may have started because of a blown out tire that sent a truck into the motorcyclist's lane. The collision, unfortunately, is likely to be one of many motorcycle accidents that occur over the summer.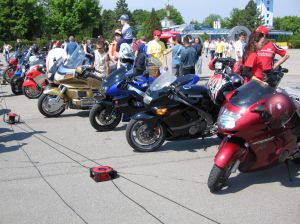 The risk of motorcycle collisions during the summer months cannot be understated. As recent reports from the National Highway Traffic Safety Administration (NHTSA) indicate, the number of motorcycle accident deaths has been steadily on the rise. Motorcyclists also face a significantly greater chance of being killed in a collision than those in passenger vehicles or trucks.
Both motorcycle riders and those in cars and trucks should do their part to try to prevent motorcycle collisions. When accidents do occur, victims or their family members need to consult with a personal injury attorney to understand their legal options.
Bad News for Motorcycle Riders
The NHTSA report on 2012 motorcycle accidents had lots of bad news for motorcycle riders:
In 2012, 4,957 people were killed in motorcycle accidents. This was a seven percent increase over the 4,630 people who lost their lives in 2011.
The motorcycle driver was most likely to be killed in motorcycle crashes. Operators of motorcycles accounted for 93 percent of people killed on motorcycles and passengers made up just seven percent of the fatalities.
The majority of deadly motorcycle collisions involved another vehicle. In total, 52 percent of deadly crashes were multiple vehicle accidents.
Accidents were likely to occur when drivers in the other vehicle were turning left. A total of 41 percent of deadly motorcycle accidents happened under these circumstances.
In 23 percent of motorcycle collisions, the motorcyclist and the other vehicle involved in the accident were both going straight.
Motorcycle accident deaths have been on an upward trajectory and motorcyclists account for a disproportionate number of people who are killed in collisions. Although motorcycles account for only 3 percent of registered vehicles in the country, 15 percent of people who die in motor vehicle crashes are on a motorcycle at the time. Motorcyclists are 26 times as likely to die in a collision as people in other vehicles.
The roads are a risky place for bikers but they don't have to be. Both motorcycle riders and drivers can try to take steps to reduce the risk of accidents. For example:
All drivers and motorcyclists should avoid high-risk behaviors such as driving while under the influence of drugs or alcohol, driving while distracted or driving while they are drowsy.
Drivers and motorcyclists should travel at a safe rate of speed for current conditions and should ensure they do not exceed the speed limit.
Motorcycle riders need to use both turn signals and hand signals to ensure drivers understand their intentions. Riding in the center of the lane is also advisable to maximize the chances a driver will see you.
Drivers should look twice before changing lanes or making a left turn to ensure that they are not cutting off or striking a motorcyclist. Motorcycles are smaller and more difficult to see and drivers need to be on the lookout.
If motorcyclists and drivers make it a point to be as careful as possible on the road and to obey all safety rules, hopefully the number of collisions will decrease.
Contact Columbia injury lawyers at Matthews & Megna LLC by calling 1-803-799-1700 or visit http://www.matthewsandmegna.com.