Parents in Florence, Darlington, Columbia, Midlands and Pee Dee need to talk with their children about pedestrian safety and tell kids that if they are crossing the road or walking somewhere, the kids must be 100 percent focused on walking safely. Kids shouldn't be using smart phones or electronic devices while they are walking. A personal injury lawyer knows that even having a conversation with a friend or listening to head phones can exacerbate the risk of a child getting hurt in a pedestrian collision.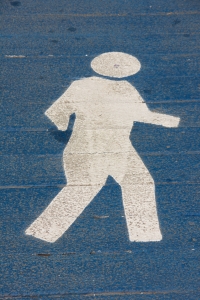 While it is important for every pedestrian to pay careful attention to what is going on around him, this may be even more essential for children.  This is because a recent study shows that children 10 and under frequently suffer from perceptual blindness.
Perceptual Blindness Puts Children at Risk of Pedestrian Crashes
Around 25 percent of children who are killed in motor vehicle accidents lose their lives in pedestrian crashes.  Some children lose their lives because they don't see cars coming toward them, while others are killed due to the negligence of the driver.
Perceptual blindness makes younger kids less likely to see cars in time to get out of the way. Perceptual blindness refers to the fact that you don't recognize what is going on around you if you have your attention focused on something else.
The Wall Street Journal reported recently on a study showing younger children don't have the same ability to recognize an unexpected object as adults do.  The study was conducted in Germany and 480 school children were included. The kids involved in the study were boys and girls between the ages of eight and 15.
A 30-second video of basketball players was shown to the children. The kids were told that their goal was to watch the players who were wearing white jerseys and to count the number of times that those players had passed.
While the children were looking at the third video, a man dressed in a gorilla suit came on to the basketball court.  The gorilla walked directly across the court and then went out an area where there was no camera pointing. The gorilla was visible in the video the kids were watching for a full nine seconds.
At the end of the experiment, the children were asked if they had observed anything unusual in the video. Less than half (only 43 percent) said they saw the gorilla. Kids who were older were more likely to see it.  A total of 32 percent of 10-year-olds indicated they had seen the gorilla.  This was higher than the 15 percent of eight-year-olds, and the 31 percent of nine-year-olds.
By the time a child reaches the age of 11, this perceptual blindness phenomenon seems to resolve itself and children are just as capable as adults at being able to identify things going on around them even if their focus is elsewhere.  Still, for younger children especially, perceptual blindness can make them more likely to get hurt. Parents need to talk to their kid about staying focused and about road safety while drivers should also think carefully about whether they are obeying the rules and protecting children.
Contact Columbia injury lawyers at Matthews & Megna LLC by calling 1-803-799-1700 or visit www.matthewsandmegna.com. Serving the entire Florence, Darlington, Columbia, Midlands and Pee Dee, SC area.